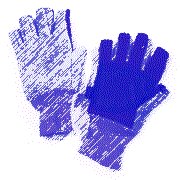 Gloves and Mitts
FrostiWear provides several brands of gloves and mitts to keep your fingers warm in even the coldest weather. No matter what your activity, you can find the glove or mitt you need.
For mild days in which you need the free use of your fingers (for such activities as photography, holding hands with your loved one, or playing Frisbee®), choose our Fingerless Gloves. For colder days of hiking, snowshoeing, or your solitary winter walk, choose the PolyFleece® Mitts. To enjoy the best of both worlds, purchase a Glomitt, a fingerless glove with a wool hood that slips back for added protection against the cold. Finally, for the serious outdoor enthusiast, consider our ArticBlast® Gore-Tex® Mitts with ultra protection against severe cold.
You can order your glove or mitt using the online order form, or if you prefer, talk to one of our sales representatives at (888) 555-5421. Remember, you can get a 5% discount by using your FrostiWear Club card.