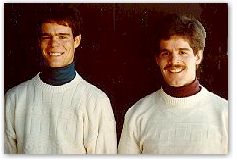 FrostiWear
Warm Clothes for Cold Days
Welcome to the FrostiWear Web site. Here you can find the perfect clothes for those cold winter days. If you're an outdoor enthusiast, don't hit the ski slopes without our PolyFleece® Activewear jackets and inner garments. FrostiWear products are affordable, stylish and warm.
Winter is coming. You can place your order here using our online shopping software. All transactions are completely protected and secure. If you want to talk with one of our friendly sales representatives, just call 1-888-555-5421. It's safe, fast and easier-than-ever to keep warm with FrostiWear.
Autumn Specials
FrostiWear is offering you special savings in the month of October. Our industry-leading insulated jackets and undergarments have been reduced 25% in price. Take advantage of additional savings (up to 40%!) with a FrostiWear Club card.