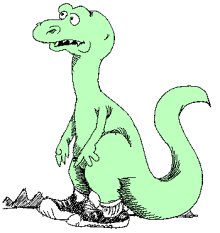 Located at 12 Bromhead Avenue in Lincoln, Iowa, the Lincoln Museum of Natural History is a fascinating and fun place to visit for the whole family. There's a lot going on at LMNH, and we invite you to experience the excitement. From replicas of early Native American villages, to the ice floes of the Arctic, to the mysterious world of the Amazon Rainforest, the Lincoln Museum of Natural History has something to offer everyone.

If dinosaurs are your bag, we have 'em in abundance. We're just down the road from some of the world's biggest dinosaur digs, and the local paleontologists pop in from time to time to give talks and demonstrations. They'll even bring samples for you to investigate. We also have several "hands-on" displays where your kids can pretend to be dinosaur hunters. Or you can become "dinosaur hunted" by trying to outrun Coelophysis in our Slow Dinosaurs?-Not! exhibit. When you're not busy trying to avoid becoming dino-food, enjoy our full-scale dinosaur models, including an Apatosaurus, Iguanodon, and the ever-popular Tyrannosaurus Rex.


As you explore our Web site you will find more detailed information about our collections, exhibits, special events, educational programs, and scientific departments. Click one of the links listed at the bottom of this page. If you have further questions about any of the museum's programs, please call us at (311) 555-2311. LMNH is open every day except Thanksgiving, Christmas, and New Year's Day, from 10 a.m. to 5 p.m.

We guarantee that all of our exhibits are perfectly safe. However, our dinosaur replicas appear so real, that some of our patrons have seen some pretty strange sights. View the movie to see what we mean.