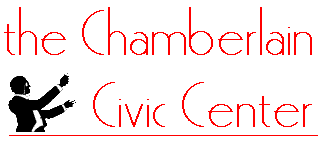 March comes in like a lion at the CCC with a two-night performance by the comic genius, Robin Williams. Attend both shows, because one show is just not enough.
Get ready for Saint Patrick's day by attending two Irish concerts at Chamberlain Civic Center. On the 7th, enjoy the Irish Dancers, the world-famous company straight from Dublin, and then on the 14th and 15th, the CCC is proud to invite The Rovers for two wonderful concerts.
Every year one of the most popular events at the CCC is the production by the Midwest Savoyards of a Gilbert and Sullivan piece. This year the Savoyards bring us five showings of Iolanthe. Be sure to order your tickets early, as these showings sell out quickly.
Broadway comes to Chamberlain in March with two Broadway show pieces. On the 22nd, enjoy the classic comedy, The Apartment starring Matthew Broderick, and then on the 29th, Woody Allen's comedy masterpiece, The Front.
Entertainment for this month's Sunday brunch is provided by The Jazz Mates. Be sure to reserve your table in advance.