Georgia's Newest and Best Amusement Park
Exciting adventures await you at Arcadium, Georgia's family fun center. The park is located 5 miles northwest of Derby - close to many of Georgia's scenic wonders. Arcadium supports over 70 rides, including some of the state's most exciting roller coasters and water rides. There's also plenty of fun for the younger kids. The park provides two separate kiddie pools and special rides for the kids.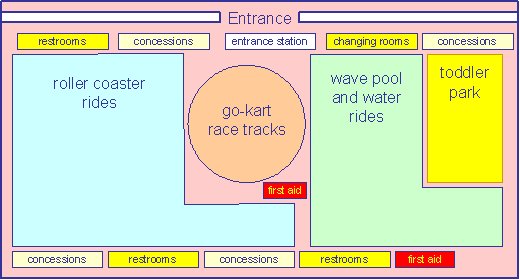 Arcadium is open seven days a week:
April 1 to Memorial Day weekend: 10am to 5pm
Memorial Day weekend through Labor Day weekend: 9am to 11pm
Labor Day weekend to October 31: 10am to 5pm
November 1 to March 31: closed
Arcadium is easy on your budget. Compare our low daily rates to the big chain parks. Special off-season and large group rates are available.
Arcadium's water rides constitute a park within the park. You can experience the thrill of the Big Dipper, Arcadium's 10-story-high water slide. Or enjoy the twisting, curving ride of Arcadium's underground water ride, the Black Hole. For a ride gentler on the stomach, take a few laps on the Lazy River in a one-, two-, or four-person inner tube. No day is complete without a visit of one of our two wavepools.
Enjoy some of the most exciting roller coaster rides in the area. Start off with the Dragon, our double looping roller coaster more than 12 stories high. Get a great view of the park from the Skywheel, a 120-foot-high gondola capable of holding up to 115 people. The Missouri Breaks will get your heart pumping at speeds of greater than 55 mph and forces up to 2.8 g's.
Arcadium provides attractions for all ages. For families with young children, there's the toddler park, with safe, age-specific rides.
Put yourself behind the wheel for a change, by enjoying one of our three go-kart tracks. For those with a little more aggression, you can take it out on our bumper car or bumper boat tracks. All rides support the highest safety standards in the industry.
---
Arcadium • Hwy 12, Exit 491 • Derby, GA 20010 • 1 (800) 555-5431