Diamond Health Club
Your Source for Year-Round, Fun Family Health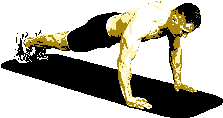 At Diamond Health Club, you can stay healthy year-round and have fun doing it! We offer something for everyone.
2 workout rooms
2 swimming pools

Olympic size pool with at least 3 laps always open
warm 3-foot deep pool perfect for therapeutic swimming (also open for children's open swim and lessons)

gymnasium with full size basketball court
private men's, women's, and family locker rooms
on-site child care
weight management programs
personal training
Ty Stoven, General Manager, ext. 300
Yosef Dolen, Assistant Manager, ext 301
Sue Myafin, Child Care, ext 302
James Michel, Health Services, ext 303
Ron Chi, Membership, ext 304
Marcia Lopez, Classes, ext 305
To contact our staff members, click the appropriate name to send an e-mail, or call 404-555-4874 and dial the extension above.
Check out our great classes, for everyone from children and teens to adults and seniors.
We have the right membership option for you!